Welcome to Darkside Canoes
Darkside Canoes is a company which has been setup to market and sell The Darkness racing C1, and The Darkness Duet racing C2. The Darkness boats are a new type of canoe which are light, stable, fast, and affordable. The designs conform to the International Canoe Federation (ICF) regulations. They fill the gap between the large, heavy and cumbersome family and touring canoes, and the extremely unstable, high kneeling, narrow racing boats. They are developed, designed and manufactured in Great Britain.
Hybrid canoe/kayak design
Although The Darkness C1 is ostensibly a canoe, it can easily be paddled as a kayak due to its slim design and even high kneeling. This protects investment as the owner has three types of boat for the price of one. All are ICF compliant but the "kayak version" does not have the overhead or complication of a rudder.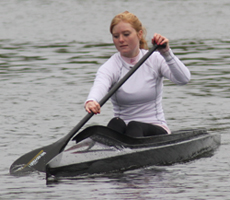 The Darkness - Canoe
The Darkness C1 has been designed from scratch to perform as a sit&switch canoe. At 8kgs it is very light which makes it easy to carry on portages. It is fully ICF compliant and ready to race. The seat can be moved forwards and backwards and supports any type of foam insert to suit the size, shape and needs of the paddler.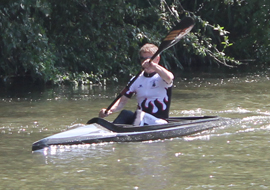 The Darkness - Kayak
Paddled as a kayak, The Darkness maintains a straight line due to the lack of rocker along the keel line. It is easy to get in and out due to the large cockpit area and there is a low risk of getting stuck in the event of a capsize. It is more stable than a racing kayak at about 4 - 5 on the stability scale.
Construction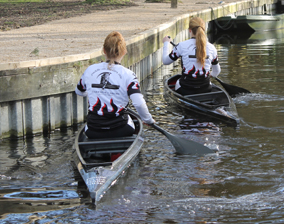 The Darkness boats is made from three layers of 200 grams carbon fibre twill bonded with polyester resin. It is constructed using vacuum infusion in two halves, joined down a centre line from bow to stern.
The boat has an adjustable footrest and seat to fit paddlers of different shapes and sizes. It has bouyancy bags fore and aft. A full size spray deck can be fitted to cover the full open cockpit area. The Darkness C1 copes with paddlers up to 90 kgs.